Thinking of a new bathroom this year? Inspired Remodels, an Orange County bathroom contractor shares these design trends. Incorporate one or all when you update your bathroom.
Sinks
Vessel sinks have gone from avant garde to mainstream. In 2018, they will continue to be popular. Think vessel sinks are a very modern design? Wrong! Vessel sinks are really a classic. They harken back to the days before indoor plumbing. In those days you took your water from a well and brought it indoors in a bucket. Water went from the bucket to a pitcher and then to the bedroom where it was poured into a giant bowl. Today's vessel sinks look like those bowls.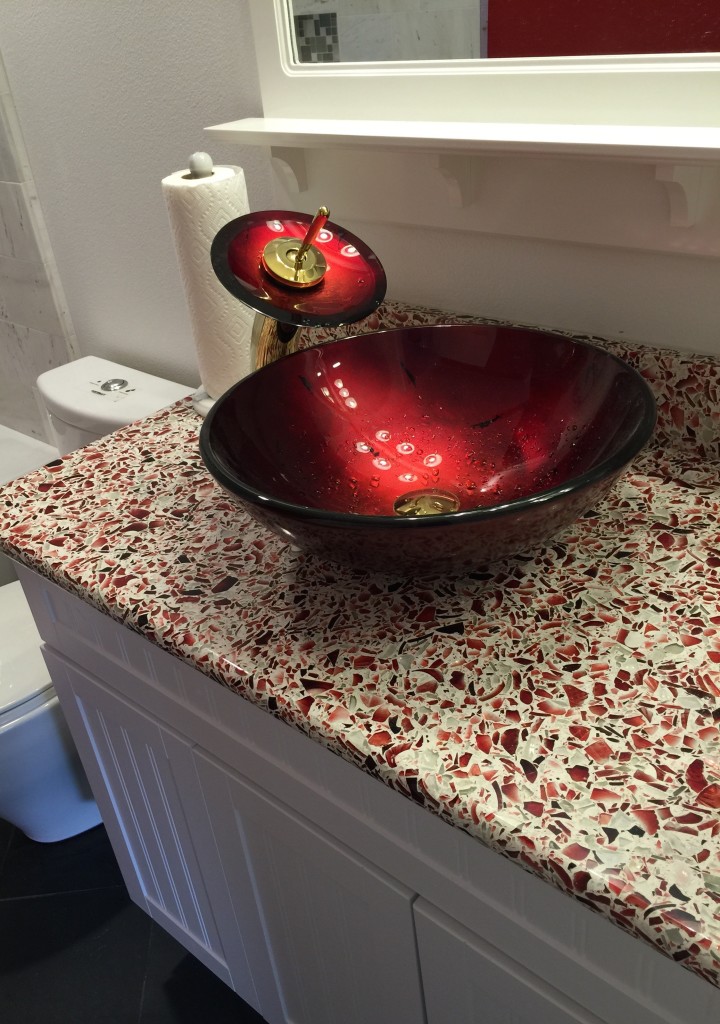 This vessel sink uses one color inside the sink and another color outside the sink to double your decorating palette.
Undermount sinks are hot in bathrooms and kitchens. Not only do they provide clean, crisp lines; they are easy to clean as well. Because there is no lip between the counter top and sink, there is no place for soap scum or bits of hair to hide.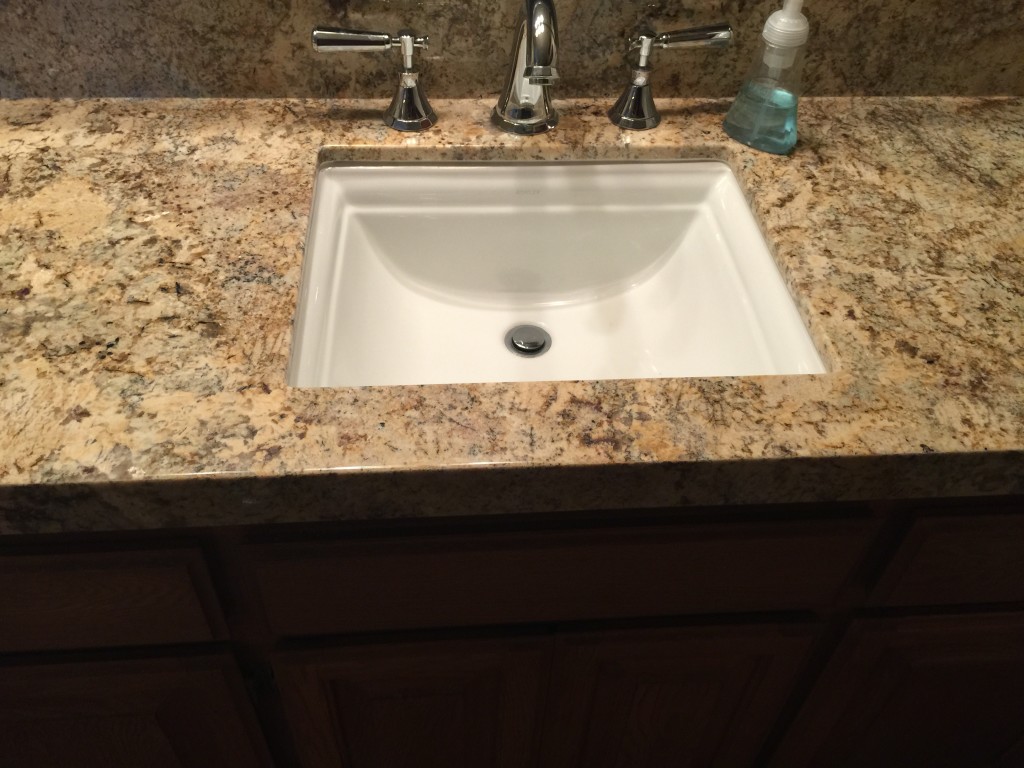 Install undermount sinks with granite, soapstone, marble, or concrete solid surface counters. Tile counters are not well suited for undermount sinks. The grout doesn't provide the structural integrity necessary to hold the sink in place.
Integrated sinks also provide the clean lines and simple look that continues to be popular in 2018. Simplicity is a key to achieving a spa-like experience. Integrated sinks are a perfect choice for a spa bath.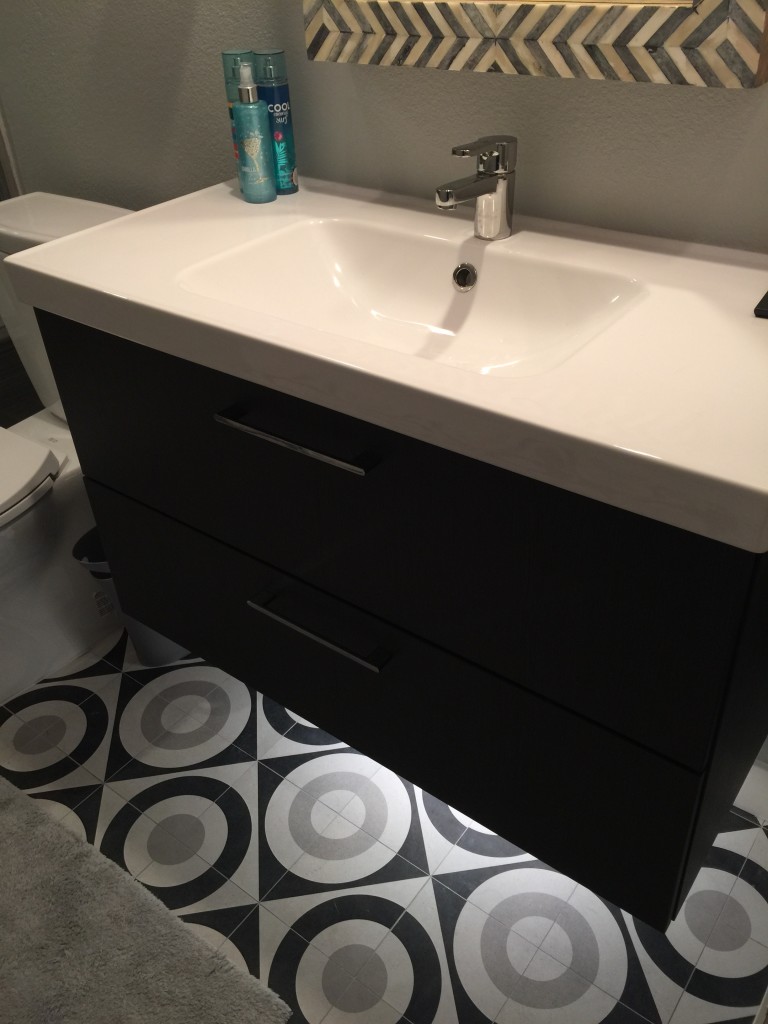 The smooth lines of the counter and sink are accentuated by utilitarian shape of the faucet and the clean lines of the cabinetry. The zen of the sink area is a perfect foil to the bold design on the floor. Nice!
Flooring
Tile continues to be popular in 2018. But tile is taking on a new look. Pebble look tile is popular. But, pebble tile can cause problems.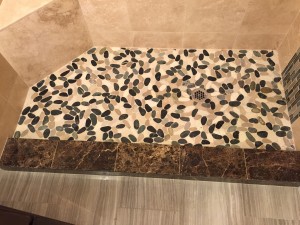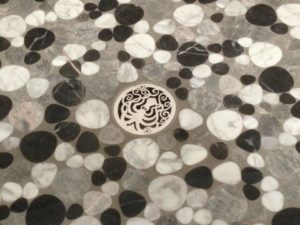 Because pebbles aren't smooth and they aren't symmetrical, installing them is a challenge. In addition, the rough surface isn't kind to we feet, gathers soap scum, and is hard to clean. They usually come in 12 x 12 grids. Because the grids aren't exact sizes, lots of grout must be used to fill in the gaps between the squares. These are all problems with pebble tile. But, Inspired Remodels has a reputation as the bathroom contractor that solves problems and they offer a stunning solution. Sliced stone! As you can see above, the sliced stone tiles give you the pebble look you want without the hassle of pebble tiles. The top surface is smooth. That's kind to wet feet. It also won't trap soap scum any more than a traditional floor tile. The multi-color look gives you just enough color variation to hide the grout grid.
Wood-look tile will gain popularity. It's going to be the hottest trend for bathrooms.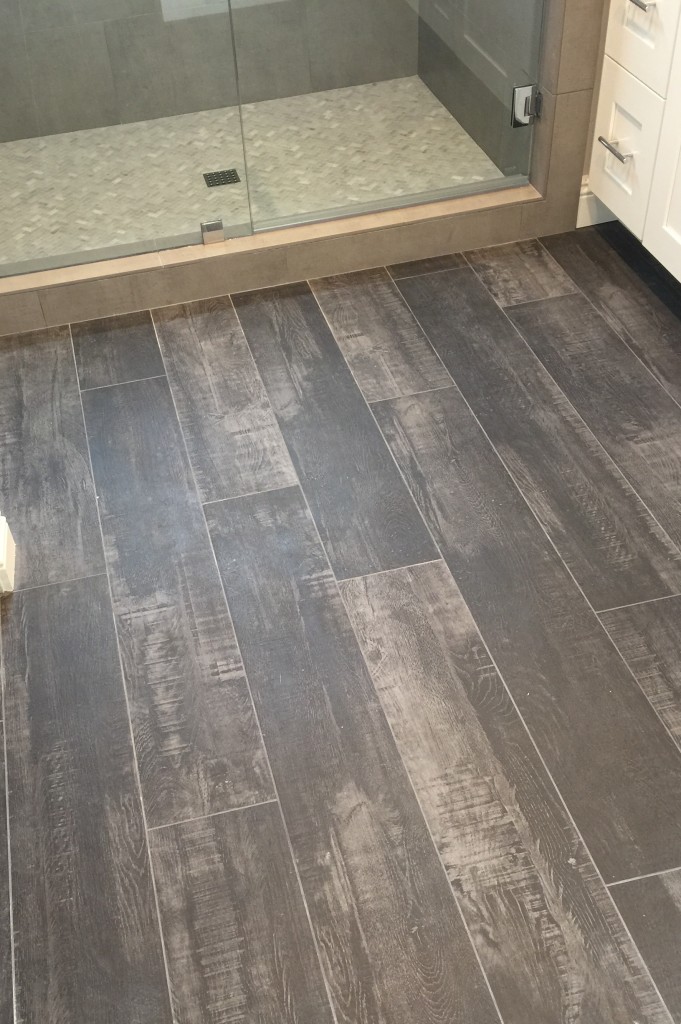 Wood is essential for a spa-like bathroom. You need the warmth of wood, but wood isn't well-suited for wet areas. Wood-look tile solves the problem. Some wood tiles are even finished with faux texture to stimulate the grain. You get the warmth of wood and the practicality of tile. What will tile designers think of next?
Inspired Remodels – Orange County's Inspired Bathroom Contractor
Whether you want the hottest trends or classic looks, Inspired Remodels is the bathroom contractor in Orange County to do the job. Jason and Joe Mueller will design the bathroom of your dreams and then execute the design perfectly. If you aren't sure what you want or feel overwhelmed by the choices to be made, don't panic. Inspired Remodels will listen to you, understand how you want to use the space, consider your budget and then design and build a bathroom that meets your needs.
Call (949) 625-6820 or Contact Us today to schedule a consultation.