The bathroom is often the most unappreciated room in the home.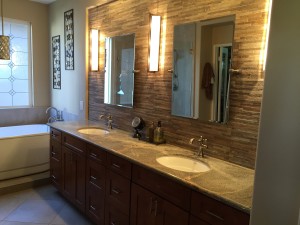 It plays a more important role than you may have previously thought. It's typically the first place you go after waking up, and the last place before heading off to bed. It's there to energize in the morning, as you transition from slumber to poised and ready to face the day. After the hustle and bustle of a long day at work, running errands or wrangling the kids, it's there to take away the stress and create a sense of calm before climbing back into bed.
The last thing you should have to worry about is a water loss situation occurring when you least expect it.
---
At Inspired Remodels, we believe a beautifully designed bathroom is more than what you see on the surface.
---
For us, the perfect bathroom starts behind the scene. We use proven installation and proper waterproofing methods to ensure your new shower isn't going to leak. You can rest assured that your new bathroom's beauty is more than skin-deep.
But, let's be honest: the perfect bathroom does need the proper look and styling that ultimately reflects you and your personality, and we only use quality materials to help you achieve that look. As a distributor of Arizona Tile, Marazzi –American Olean, and more, you have access to a wide range of products that match your style, and we can stand behind.
Whether you need a modern, contemporary, Zen-spa bathroom to keep you centered, or a luxurious, Roman-bath retreat hideaway, we help you design the bathroom that fits you, your style, your needs, on your budget. Check out some of the bathrooms we've recreated or contact us to schedule an estimate and design consultation. Your bathroom will thank you.
Bathroom Remodels Portfolio