Flooring trends don't move at the speed of other interior design trends. But flooring does have trends. Inspired Remodels, Orange County's go-to flooring contractor shares current flooring trends and a peek to the future.
What's Hot
Orange County still loves hard surface flooring. It's perfect for our active lifestyles. So, don't expect to read about carpet here. But trends in hard flooring are changing.
Wood Look Floors
First there was tile, then there was wood. The hottest trend in flooring is tile that looks like wood. You get the durability of porcelain and the beauty of wood. Wood look tile is easy care and comes in a wide variety of colors, grains and textures. It's a favorite of this flooring contractor.
Light Wood Floors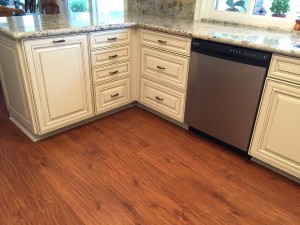 Whether it is engineered wood or wood-look tile, light colored wood floors are hot. Move over espresso and make way for blonde floors. Red oak and white oak are both light woods with beautiful grain. Hard maple is expensive, but as the name implies it is hard. Maple is a favorite for Scandinavian designs. Birch and ash are both light, but don't take stain well. These are the best choices if you want a natural poly finish. These floors are available in wood or tile.
Grey Floors
Grey continues to be the new white. This color is hot because it is calming. Grey flooring is perfectly at home in a traditional or modern room. It's great for the kitchen or bathroom because it works and plays well with so many accent colors. Grey is chic and grey is clean and we think it is will be a popular trend for the next 10 years and beyond. Wood-look tiles in grey tones are showing up in more and more Orange County bathrooms. That's because tile is perfect for the bathroom and grey compliments most all cabinetry. Add on the appeal of a wood appearance and you've got a winner for bathrooms.
Patterns
Geometric patterns aren't just for back splashes anymore. Chevrons and other patterns have moved from walls and trim down to the flooring. This look has the potential to be fabulously inspired or an incredible eyesore. Make sure the design elements work well with the rest of the interior and stick with neutral tones if you dare. Patterns are perfect when perfectly executed. This tile emblem will look just as stunning in 20 years as it does today.
Flooring Contractor Tips for Selecting Your Floor
With so many options it may be hard to pick. Inspired Remodels recommends that you consider 3 main factors when choosing a floor:
Room Use. First think about how the room is used. Usage determines factors such as durability and ease of care. High usage rooms need a surface that stands up well to foot traffic. Kitchens get messy, kitchen floors need to be easy to clean. Formal areas may not require durable surfaces. A room used by pets needs to be resistant to stains.
Room Location. Entrance rooms need to combine wow factor and durability. Most dirt, mud and moisture gets deposited on the floors next to exterior doors. In addition, entry areas need to make a statement. Whether it is a cheerful "welcome home" or a grand "welcome to my castle", flooring plays a starring role in staging entry ways. Also, consider room exposure. Rooms that face south or west receive the most sunlight. This means more damaging UV rays.
Budget. Flooring costs can add up quickly. Factor in the useful life of the flooring material when evaluating costs. A hardwood floor can be expensive upfront, but can be refinished and last over 50 years with proper care. Laminate flooring may cost less initially, but has a much shorter life. Don't forget to factor in the cost of padding if you decide to buck the trends and go with carpet.
Get Inspired Flooring
For inspired flooring designs, talk to Inspired Remodels. View our inspired flooring portfolio to see what's possible and then Contact Us on-line or call (949) 625-6820 and talk to Jason and Joe Mueller.