You don't have to go to the spa to experience a spa-like retreat. If you follow these five tips by bathroom designers, you can have a spa at home.
Floors with Warmth
Spas are relaxing because they appeal to all of your senses. Achieve the yin yang of relaxing warmth and coolness with wood-like flooring. Wood provides warm visual appeal, but it's not practical for wet areas. Porcelain and ceramic tile that looks like hardwood is the answer. You get the look and feel of hardwood with the ease of maintenance of tile. It resists moisture, scratching and scuffing. It's perfect for the bathroom. The tile can have a traditional tile surface or a woodgrain finish.
But that's just the start. Use underfloor heating to keep bathroom chill at bay. Your toesies will be toasty with heated floors. Heating can be applied as part of a new floor or can be applied between floor joists to existing floors. It's cost effective too. Just heat the bathroom when it's in use.
Thirsty Towels
Be sure to set out plenty of towels. Don't use just any towel. Splurge on high absorbency towels that dry fast. Eco Dry towels by Welspun are plush and wick water away from your skin then dry quickly on the towel bar. Dermatologists recommend you pat skin dry without rubbing. Eco Dry towels are perfect. For even more luxury, place towels on a towel warmer.
Frameless Shower Doors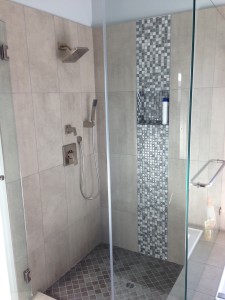 Even the smallest spa appears spacious through judicious use of light and glass. You can make your bathroom look larger using the same tricks. So, ditch traditional shower doors (and the hassle of keeping sliding door tracks clean) and forgo shower curtains. Get frameless glass shower doors. Extends the shower seamlessly to the rest of the bathroom. Look how this bathroom looks larger by the use of a frameless door.
Rainshower Heads
Simulate the feel of showering in a rainstorm. Install a rain shower style showerhead. These heads are mounted on the wall or the ceiling. Water falls from overhead instead of a more vertical direction. You can get one the size of a dinner plate or a model with a removable handheld shower. Most models have multiple settings from a gentle shower to an invigorating pulse.
Soaking Tub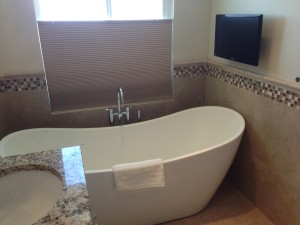 A soaking tub can be the ultimate spa indulgence in your bathroom. When shopping, decide what features are important to you. Are arm rests or foot rests key? Do you want contours? Don't be shy about sitting in a tub in the showroom (dressed of course) to make sure the size is right. Speaking of size, make sure your hot water heater has capacity to fill the tub. Acrylic tubs are less expensive but cast iron stays warm longer.
Bathroom Designers Turning Dreams into Reality
When you are ready to turn your dream of a spa bathroom into reality, contact Inspired Remodels of Orange County. You'll get the services of more than just a bathroom designer. You'll get complete design and build services. Your bathroom designers are your bathroom contractors when you work with Inspired Remodels. Call (949) 625-6820 or Contact Us online to schedule your consultation.