Looking for inspiration for your shower remodeling project? Pinterest is great for gathering ideas. But, it doesn't hurt to get a little inspiration from experts at bathroom remodeling. Inspired Remodels turns remodeling dreams into reality. Here's a few ideas to spark your creativity.
Tuck It Away
Storage is always a problem in any
small room. It poses a real problem in a small bathroom. Use the space in the shower to add storage. Niches are nifty. Niches keep personal grooming products where you need them; in the shower at your fingertips!
Niches are a great opportunity to add flair to the shower too. That's why your shower remodeling project should include niches. Use contrasting tile in the niche or continue the existing tile pattern. The choice is yours.
The depth of the niche should be 3 1/2 inches. This corresponds with the size of the underlying studs. The length of the niche can be 12 inches to also correspond to the studs. Niche height varies. If you put your niche from 48″ to 60″ from the shower floor, it will be a handy height for most people.
Wonderful Windows
Don't be afraid of windows in the shower. Windows provide ventilation. In addition, they bring in additional light. Light is always important to making a small space look larger. A window may be just what your shower remodeling project needs to make the room light and bright. Set the top of the windows 80″ from the shower floor. Frosted glass provides privacy while still letting light in the room.
Seat or Bench
Include a seat or bench in your shower. It's handy for shaving and makes showering for the elderly or disabled much safer and easier. It's a perch for enjoying a handheld shower and doubles as extra storage area.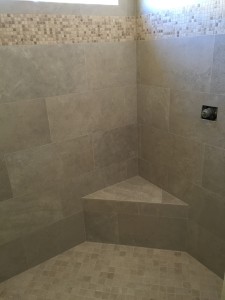 Put your bench in a corner or on the wall opposite of the showerhead. Tile it with contrasting or complementing surfaces. A shower seat or bench is another way to express your decorating style in your shower remodel while adding utility.
Shower Remodeling Experts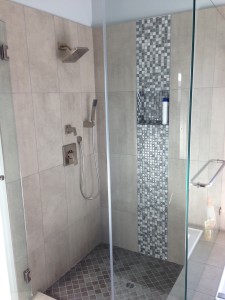 When it's time to update the bathroom, it's time to call Inspired Remodels. Spend some time with our portfolio of bathroom remodeling projects. You're sure to find inspiration. We are design/build remodeling professionals. From the initial design to the finished room, Inspired Remodels takes care of all aspects of your project. Call (949) 625-6820 to schedule your consultation today.